ISO 10002 – Customer's Complaints Management System
Further details
ISO 10002 (customer's complaints management system) is a general ISO 9001 family guide that has been formulated to design, plan and execute an effective and efficient customer complaints process.
Some of the requirements of this standard are:
Determine who is responsible for the customer complaints process.
Clear channels of sending and receiving customer complaints
"Availability" This means that all complainants have easy access to the grievance process with sufficient information on how to proceed and resolve the grievance.
Notice of receipt of the complaint immediately upon receipt by the claimant's client
Complaint free of charge (some government agencies charge for receiving a complaint)
The standard is a practical guide for customer-centric organizations where they can create an effective and desirable process for receiving customer complaints and prevent complainant clients from reporting their complaints to people outside the organization rather than in the organization.
ISO 10002 (customer's complaints management system) gives guidelines for the process of complaints handling related to products and services within an organization, including planning, design, development, operation, maintenance and improvement. The complaints-handling process described is suitable for use as one of the processes of an overall quality management system.
NOTE Throughout ISO10002, the terms "product" and "service" refer to the outputs of an organization that are intended for, or required by, a customer.
Customer complaint system is intended for use by any organization regardless of its type or size, or the products and services it provides. It is also intended for use by organizations in all sectors. Annex B provides guidance specifically for small businesses.
ISO 10002 (customer's complaints management system) addresses the following aspects of complaints handling:
a) enhancing customer satisfaction by creating a customer-focused environment that is open to feedback (including complaints), resolving any complaints received, and enhancing the organization's ability to improve its products and services, including customer service;
b) top management involvement and commitment through adequate acquisition and deployment of resources, including personnel training;
c) recognizing and addressing the needs and expectations of complainants;
d) providing complainants with an open, effective and easy-to-use complaints process;
e) analyzing and evaluating complaints in order to improve the quality of products and services, including customer service;
f) auditing of the complaints-handling process;
g) reviewing the effectiveness and efficiency of the complaints-handling process.
This standard does not apply to disputes referred for resolution outside the organization or for employment-related disputes.
Manage customer complaints effectively and you'll have more chance of meeting their expectations as well. And you can quickly turn customer complaints into customer satisfaction instead – especially when you view complaints as an opportunity to improve what you do and how you do it.
ISO10002 for customer satisfaction can help you to achieve this whatever the size or nature of your business. The customer complaints management system is a basic but essential requirement for any business – especially businesses that want to become and remain successful.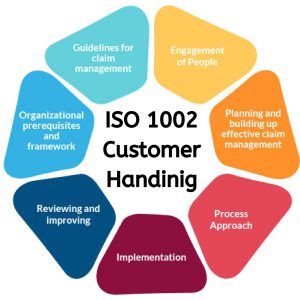 Benefits of ISO implementation:
– Increase customer and consumer confidence
– Increasing the quality of products/services
– Reduce waste and losses in products/services and ultimately reduce costs
– Save on consumables and increase profits
– Planning, implementation of affairs in the form of a predefined international system
– Improve performance, increase productivity and speed in affairs
– Increase efficiency and customer satisfaction
– Reducing the number of complaints
– Improvement and uniformity in the quality of products/services
– Timely delivery of products/services
– Global competition
– Prevent or reduce unexpected events
– Earning points in tenders, obtaining ranks and grades from government organizations, providing evidence in exports
Other benefits are:
– Advertising use in headers, company site and all advertising matters
– Earn points in selecting sample units
– Reduce waste and waste time
– Creating confidence inside and outside the organization
– Transparency of processes and indicators
– Ensuring that customer needs and expectations are met
– Production of product/service with better quality
– Help with more marketing and sales and create demand
– Increasing the productivity and motivation of human resources
– Correcting errors and preventing their recurrence
– Improving communication within the organization
– Prevention of non-compliant product/service production
– Develop sales methods and provide after-sales service