ISO 39001 – Road Traffic Safety (RTS) Management System
Further details
ISO 39001 or the "Road Traffic Safety Management System" is very similar to the ISO 9001 standard but designed for road traffic safety management. It also requires the establishment of a Road Traffic System and the involvement of relevant organizations in improving traffic safety and reducing the number of fatalities and injuries caused by road accidents.
As an international standard, ISO 39001 specifies the requirements for Road Traffic Safety Management Systems. Additionally, it serves as a tool for organizations to reduce and eventually eliminate accidents, deaths and severe injuries associated with road traffic crashes.
Road Traffic Safety (RTS) is considered as a global issue, as the number of accidents that occur worldwide is constantly rising. Therefore, firms and/or individuals, who are committed to improving road safety and offer quality, will benefit from the implementation of ISO 39001. This standard identifies improved elements of road traffic safety, which enable organizations to reach their desired outcomes.
ISO 39001 (Road Traffic Safety Management System) specifies requirements for a road traffic safety (RTS) management system to enable an organization that interacts with the road traffic system to reduce death and serious injuries related to road traffic crashes which it can influence. The requirements in ISO 39001 include development and implementation of an appropriate RTS policy, development of RTS objectives and action plans, which take into account legal and other requirements to which the organization subscribes, and information about elements and criteria related to RTS that the organization identifies as those which it can control and those which it can influence.
ISO 39001 (Road Traffic Safety Management System) sets the requirements for the implementation of a Road Traffic Safety Management System which ensures high quality and efficiency in road traffic management. Road Traffic Safety Management Systems were designed to reduce deaths and serious injuries associated with road traffic accidents. The ISO 39001 international standard is comprised with requirements that assist organizations to establish and implement suitable RTS policies, objectives and strategies.
Professionals, who work with road traffic safety, can become ISO39001 certified and help their organizations to achieve these goals and objectives. They can serve as a stepping stone for their businesses to offer qualitative services, which will lead to better job opportunities and consequently increase their opportunity for higher earnings.
Benefits and usage  of ISO39001 :
-Ensure quality and road traffic safety
-Increase the efficiency of Road Traffic Safety Management Systems (RTSMS)
-Gain expertise on reducing costs
-Gain competitive advantage
-Help the organization to achieve its objectives
-Ensure customer reliability
-Establishment, implementation, attention and improvement of the road traffic safety management system
-Ensure that your country's road transport is in compliance with the road traffic safety management system
-Detection of compliance with this universal standard (RTS)
-Accomplish organizational security and social responsibility goals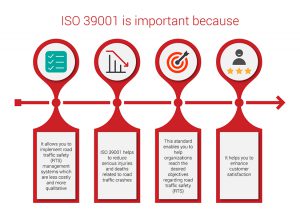 Benefits of ISO implementation:
– Increase customer and consumer confidence
– Increasing the quality of products/services
– Reduce waste and losses in products/services and ultimately reduce costs
– Save on consumables and increase profits
– Planning, implementation of affairs in the form of a predefined international system
– Improve performance, increase productivity and speed in affairs
– Increase efficiency and customer satisfaction
– Reducing the number of complaints
– Improvement and uniformity in the quality of products/services
– Timely delivery of products/services
– Global competition
– Prevent or reduce unexpected events
– Earning points in tenders, obtaining ranks and grades from government organizations, providing evidence in exports
Other benefits are:
– Advertising use in headers, company site and all advertising matters
– Earn points in selecting sample units
– Reduce waste and waste time
– Creating confidence inside and outside the organization
– Transparency of processes and indicators
– Ensuring that customer needs and expectations are met
– Production of product/service with better quality
– Help with more marketing and sales and create demand
– Increasing the productivity and motivation of human resources
– Correcting errors and preventing their recurrence
– Improving communication within the organization
– Prevention of non-compliant product/service production
– Develop sales methods and provide after-sales service