IATF 16949 – Quality Management Standard for the automotive industry
Further details
The International Automotive Task Force (IATF) published the IATF 16949 as the Quality Management Standard for the automotive industry. IATF 16949 is considered as an innovative standard, which is customer- focused and integrates the automotive customer specific requirements.  IATF 16949 is not a separate quality management standard, but it is rather applied as a supplement to and combined with ISO 9001. This international standard aligns with other key management system standards and outlines the Quality Management requirements for organizations which work in the production and/or service of automotive parts and/or related accessory parts.
Organizations operating in the automotive industry have always been obliged to ensure safety and quality in order to be successful. Having said that, being certified against IATF 16949 will enable you to help organizations reach high levels of quality and safety, while lowering costs.
IATF 16949 standard was designed to help you become more efficient in the workplace by preventing defects, reducing waste and unnecessary operations. Thus, demonstrating your commitment to the best automotive practices will enable you to improve your reputation and get better job opportunities. IATF 16949 empowers individuals to survive in the automotive industry by becoming easily adapted to the ongoing changes, and respond to internal and external threats.
In addition, IATF 16949 standard ensures that all the business practices are well-aligned with the respective business strategy in order to achieve sustainable development, and offer safe and qualitative products and services.
Due to its independent nature, ISO 9000 series standards have been the basis for many institutions to build a quality management system, but some specialized areas, especially such as the automotive industry, are more interested in meeting the demands. They have developed their own special requirements and have complied with these requirements for their suppliers.
As the number of these requirements has led to problems with the repeated assessment of different requirements for contract manufacturers, different automakers have been investigating. Working with the 176th Technical Committee of the International Organization for Standardization (ISO) to work together to meet the requirements of the world's automakers. The result of this effort was the publication of the IATF 16949 technical specification on 1/3/1999. In compiling this technical characteristic, the following references have been used:
ISO/TS 16949, in conjunction with ISO 9001:2008, defines the quality management system requirements for the design and development, production and, when relevant, installation and service of automotive-related products.
ISO/TS 16949 is applicable to sites of the organization where customer-specified parts, for production and/or service, are manufactured.
Supporting functions, whether on-site or remote (such as design centres, corporate headquarters and distribution centres), form part of the site audit as they support the site, but cannot obtain stand-alone certification to ISO/TS 16949
ISO/TS 16949 can be applied throughout the automotive supply chain.
-ISO 9000 International Quality Management Standards Series
-IATF Regulations on IATF 16949
-American Automobile Manufacturers Reference Regulations (QS 9000)
-Italian Secret Automotive Reference Regulations (AVSQ)
-French Secret Service Authorization Regulations (EAQF)
-Automotive Reference Registers (German VDA Series)
Advantages of using ISO/TS 16949 standard:
-Gain competitive advantage
-Help the organization to offer qualitative products and services
-Help the organization to offer safer products
-Gain knowledge about the best practices of the automotive industry increase efficiency
-Reduce waste
-Eliminate unnecessary operations
-Create new job opportunities
Full compliance with the ISO 9001 standard and the ability to integrate, especially for production units that operate both for the automotive industry and beyond.
-Ability to adapt and adapt to the environmental management standard (ISO 14001)
-Establishing a process-oriented quality management system that ensures continuous improvement in the organization and moving towards TQM models and organizational excellence.
-Acceptance of this system by automotive manufacturing companies around the world.
-Use the general benefits of quality management systems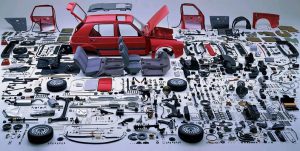 Benefits of ISO implementation:
– Increase customer and consumer confidence
– Increasing the quality of products/services
– Reduce waste and losses in products/services and ultimately reduce costs
– Save on consumables and increase profits
– Planning, implementation of affairs in the form of a predefined international system
– Improve performance, increase productivity and speed in affairs
– Increase efficiency and customer satisfaction
– Reducing the number of complaints
– Improvement and uniformity in the quality of products/services
– Timely delivery of products/services
– Global competition
– Prevent or reduce unexpected events
– Earning points in tenders, obtaining ranks and grades from government organizations, providing evidence in exports
– Advertising use in headers, company site and all advertising matters
– Earn points in selecting sample units
– Reduce waste and waste time
– Creating confidence inside and outside the organization
– Transparency of processes and indicators
– Ensuring that customer needs and expectations are met
– Production of product/service with better quality
– Help with more marketing and sales and create demand
– Increasing the productivity and motivation of human resources
– Correcting errors and preventing their recurrence
– Improving communication within the organization
– Prevention of non-compliant product/service production
– Develop sales methods and provide after-sales service