ISO 3834 – International Standard for Quality Requirements for the Fusion Welding
Further details
ISO 3834 specifies the International Standards with which it is necessary to conform to claim conformity to the quality requirements of ISO 3834-2, ISO 3834-3, or ISO 3834-4. It can only be used in conjunction with ISO 3834-2, ISO 3834-3, or ISO 3834-4.
Nearly 69 percent of the world's metals are produced by steel, with more than 69 percent of that steel being welded in the future and less than 19 percent of the rest being cast. Welding is also responsible for removing defects from their casting. Its purpose was to determine the EN of the European Standards Committee (the first edition of Standard 729 (CEN in 1661, EN ISO was a qualitative requirement for melting metal welding; then, in 1661, the institute published.
Benefits of implementing ISO 3834 standard:
-Increase the quality assurance of welded products
-Increase confidence in the delivery time specified in the contract
-Increasing the credibility and competitiveness of the company at home and abroad
-Increasing the quality level and competence of suppliers of welded parts and assemblies
-More efficiency of welding-related activities from engineering and supply to execution
-Reduce costs from rework, waste and damages
-Reduce the cost of sudden equipment failure
-Reduce third-party inspection costs
Factors affecting the selection of an appropriate quality level
-Product complexity
-Product importance
-Product volume
-Variety of materials used in the product
-Expansion of metallurgical problems
-The effect of welding defects on product performance
In order to enter the World Trade Organization (WTO), one of the points that should be seriously considered by government officials and senior managers of companies is the observance of international standards in the production of quality products that can compete in the global market, One of these standards is ISO 3834, which is used in the production of products in which welding plays a major role.
Companies that are directly or indirectly related to welding, and are seeking to participate in international tenders or have a plan to export their product to other countries, must comply with ISO 3834.
Also, the implementation of ISO 3834 by methodizing welding-related activities based on an internationally approved standard can reduce the volume of rework, the amount of rework, as well as the damage caused to the company by improper performance of the product during consumption. In this way, it will help reduce the company's costs.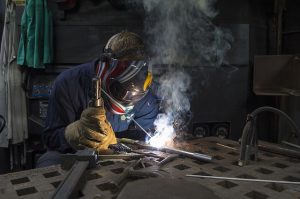 Benefits of ISO implementation:
– Increase customer and consumer confidence
– Increasing the quality of products/services
– Reduce waste and losses in products/services and ultimately reduce costs
– Save on consumables and increase profits
– Planning, implementation of affairs in the form of a predefined international system
– Improve performance, increase productivity and speed in affairs
– Increase efficiency and customer satisfaction
– Reducing the number of complaints
– Improvement and uniformity in the quality of products/services
– Timely delivery of products/services
– Global competition
– Prevent or reduce unexpected events
– Earning points in tenders, obtaining ranks and grades from government organizations, providing evidence in exports
– Advertising use in headers, company site and all advertising matters
– Earn points in selecting sample units
– Reduce waste and waste time
– Creating confidence inside and outside the organization
– Transparency of processes and indicators
– Ensuring that customer needs and expectations are met
– Production of product/service with better quality
– Help with more marketing and sales and create demand
– Increasing the productivity and motivation of human resources
– Correcting errors and preventing their recurrence
– Improving communication within the organization
– Prevention of non-compliant product/service production
– Develop sales methods and provide after-sales service